Joseph's Spaghetti Shed "Buon Apetito!"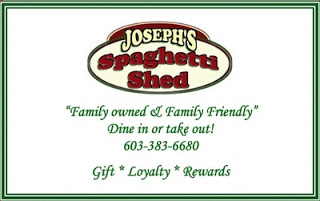 There's nothing like comforting Italian food after a day on the slopes, shopping or hanging out. This family friendly restaurant has sit down as well as take out food. New menu items include Chicken Carmella & Chicken Piccata. Great pizza is a staple. As a long time member of The Valley Originals, you know the owner is on premise. Monday nights are Dine to Donate nights. The designated non-profit that evening receives a generous 20% of th proceeds!! Drop in for dinner or to pick up a meal to go.
Proprietor Beth Carta-Dolan is also owner of Sugarbaker Bakery, made-to-order cakes, cupcakes, pies.